Passion and Fantastical Experiences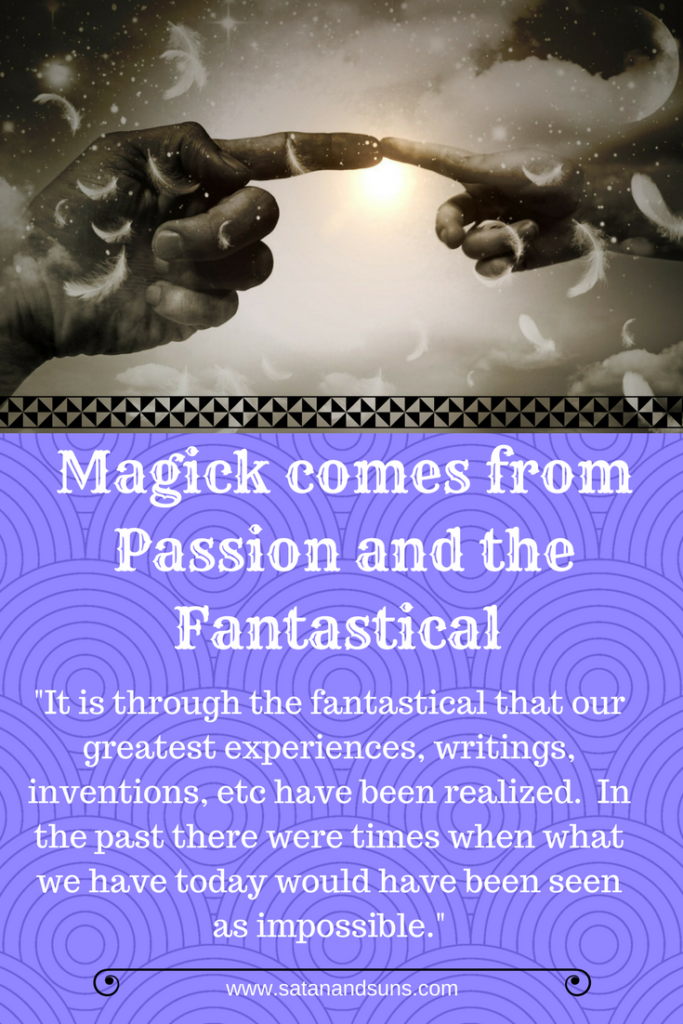 It is interesting how so many people are called to spiritual paths, it is human nature it seems to desire to understand and embrace what is unseen and what cannot be quantified. Really there are a lot of mysteries in this world that have yet to be answered and even scientists are drawn to this desire to uncover what cannot be explained and grasp what currently cannot be measured. It is a calling of our very human soul.
It is through the fantastical that our greatest experiences, writings, inventions, etc have been realized. In the past there were times when what we have today would have been seen as impossible. The ravings of lunatics and mad men. All these things were once deemed impossible. Yet today they are possible and it is through the dreams and ambitions of those who dared to look into the unseen world that allowed this to happen.
I have read things, I have read works of art that are fantastical, meaning that I believe the author has peered into another world and seen things, they have seen things which they choose to bring back here. I believe the realms are connected. We are not isolated and alone here, that is just an illusion, we are connected to the other realms and the other beings to give us glimpses of other worlds. We share and learn from those in other realms just as they share and learn from us.
Working with demons and working with spiritual companions, these are fantastical experiences. They are experiences that would be seen as crazy, whether you are speaking and communicating with these beings, or having full on astral experiences with them. They are fantastical in nature and they give us passion, they give us drive and they fuel the creative imagination of our soul.
When we are children we live in the fantastical, we let our imaginations run free and we can be and do anything. We can play pretend and go on fantastical adventures. We are open to our spiritual sides and we allow ourselves to play, live and create. Children are in the present and they live for the day. It is a beautiful way to live. We lose that as we get older and though its s important to ground ourselves here, and leave to walk this world and live as an adult, giving up that playful fun side can be just as damaging to our health as living completely in fantasy. There has to be balance, you have to stay present in the world while allowing yourself to still be open to the fantastical. This allows you to live in this world, while learning and drawing creative energies from the other worlds.
I believe this is why many people are drawn to spiritual practises and drawn to connecting and working with demons. They remember the fantastical and they know that something is missing from their life, so they seek it out, they are looking for it and looking to remember. There is such creativity in the fantastical and such incredible discoveries that are made when one embraces it. Many of the geniuses of our time explored the fantastical and had fantastical experiences. This is because there is knowledge and wisdom within the fantastical. We all come from it, we all return to it, and while we are here we all seek to remember it.
The energetic anatomy of the third eye is very fascinating. It is actually linked to the imagination, and while yes most of what you get does come internally from the mind, some of what you get does come externally from the spiritual world. Shutting off your imagination and grounding all fantastical experiences shuts down your ability to receive these messages. If you allow yourself to keep your imagination open and explore the fantastical while remaining grounded here, you will eventually be able to decipher what is fantasy and what is reality. It starts though with giving yourself permission.
The fantastical is the spiritual world, it is the unseen world and it is where many geniuses and creative people draw their inspiration. H.P Lovecraft I believe saw into another world and that is what influenced his writings, his work to me feels fantastical, as does the Lord of the Rings, that world feels fantastical and I do believe that in another time Tolkien may have been a member of that realm. I do believe there is more to this world then what is seen and that when you explore the spiritual world and explore the fantastical you move beyond what you are told is possible and open yourself up to the inspiration and wonder that is out there.
I want to share with you an exercise. It is a silly exercise and many of you will feel silly doing it, but it is important to allow yourself at times to stretch beyond what you have been told, question what you have been taught and every now and then give yourself permission to just dream and indulge in fantasy, you might uncover elements of truth.
Tasking the Imagination.
This is an exercise that many of you will appear silly doing, but it will re-engage your imagination and link it to your third eye, which will help you to communicate and connect with spiritual beings. It will also help those of you struggling to communicate and connect with your companions. Remember, you have to allow yourself to be silly for this exercise. You have to give yourself permission to let yourself go and just for a moment, allow the imagination to explore and have fun.
1) Select one of your companions to do this exercise with.
2) Invite them to join you and just take a moment to sit with them.
3) Take in three deep breaths and close your eyes, focusing on your spiritual companion and working to sense their energies. If you can't, don't worry. Just see if you can scan and sense their energies. You should feel a tingling feeling in your third eye. Take a moment to explore this sensation.
4) This part is when things will start to get silly. Just let your mind wander. Imagine yourself with your spiritual companion. What would you do together? How would you interact with them? What activities would you do with them? Let your mind wander and let your imagination take over.
5) As you are letting your mind go, see if you can connect to their energies and sense them. See if they can help influence this fantasy, just let your mind go and wander.
6) This is a great exercise because it opens up your mind to the energies around you. It also relaxes your judgement so they might be able to get some messages through. Being in a non-judgmental state also allows you to open your mind up to the creative flow and the energies of creation. This can inspire new ideas and new inspirations. It can open you up to the possibilities that are all around you.
7) Let your mind wander and just see where the fantasy takes you. See if you get any messages from them. See if it takes a different course than you imagined. Don't judge this experience, just let it go.
8) Very important, journal this experience.
In order to walk in the unseen world, you have to be open to the fantastical. You have to be open to energies that will not be able to be quantified or measured with our current technologies, maybe some day but not today. Opening up to these energies will help your third eye learn to translate spiritual energies. Staying grounded here and objectively looking at your fantasies will help you to figure out what is pure fantasy, as well as what might be elements of connection with your spiritual companion. It is a great exercise to help you let go and just let your imagination and mind take over. The imagination and the third eye act on each other, so these elements do cross. Staying grounded will help you to figure out which one is which, and help you to really develop and grow your natural psychic skills.
"You have to be able to stay grounded, if you struggle with grounding or other episodes of sever mental illness please then continue to see your mental health practitioner and wait to explore this until you get your situation balanced. There is no shame in mental illness, it it just vey important for your mental health to make sure that you are taking care of yourself."