24 Days of Demons and Tea – Day 2 – In Search of cups
I decided that I did want to find cups especially for this project and thought I wanted matching cups. After speaking to my mentor a bit though, she pointed out that the tea cups don't always match in certain tea ceremonies and it can be a lot of fun using different tea cups.
I did find a beautiful set online of several different cups but then I saw the price LOL I saw some others but none that would arrive before I finished this as they were custom made and would take a month and this is only for 24 days… my mentor had some suggestions and I ended up finding a set that I really like and will be using in a few days.
For now though, I happen to be traveling and so I borrowed tea cups. My mentor had the brand I was looking at online and lucky me, she let me use them *-* I also was able to have tea in a place that may look familiar…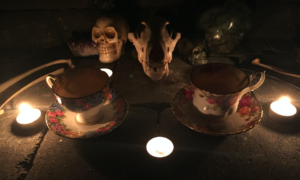 Tonight's tea is 'Chocolate Macaroon' and I had it with my Crypt/Mutilation/Lowborn Surgeon K. He has been with me since the beginning of the year and has helped me immensely in healing and my transition from life on the East Coast to my new life on the West Coast. There have been a lot of challenges but his incredible support allowed me to go deep into my subconscious and confront a lot of what led me to be in the situation I was in with my ex.
There was a time where I sat down nightly, 7 days a week, to face what needed to be healed, the damaging mindsets that held me where I was and led to self destructive habits and self sabotage. Shadow work with him was never light, it was never easy and at times I was sure it would kill me LOL I also thought it would never end. But eventually it did end and I didn't die. I'm stronger and in a much better place for having done it.
Reprogramming a mind after 8 years of narcissistic abuse is no small task. Neither is uncovering the things that happened in your life before that, which lead you into a situation like that and he stepped up to help me with that. I can't put into words what that means to me, but even typing this brings tears to my eyes.
My work with him has been life changing and I am eternally grateful to him.
I tell him how grateful I am and he smiles at me.
It's nice to sit down with you like this Eilana and to celebrate. I've enjoyed our work together and I will always be here for you to support you however I can. It's good to take time to celebrate, to honor all you have accomplished and to enjoy these moments.
In my darkest moments this year, he has been with me every step. He didn't give up on me but he certainly didn't go easy on me. He is probably one of the most brutal Demons I have worked with, but it was what I needed and I have the deepest sense of awe and respect for him. When I thought things were over, he showed me the way through the darkness, he called me on my bullshit and never let me take the easy way out.
He still challenges me and I love him for it.
I'm getting to know him more now, moving beyond looking to him for help and support and he has a brilliant mind and amazing personality. Conversations with him are incredibly enlightening and entertaining.
During our chat and tea ceremony, something is sort of occupying the sublayers of my mind.
It will be ok, he tells me. Eliminate the fear and have faith. It will all work out.
I smile, again a little teary eyed, because after all he has done and the other times he told me it was going to be ok, it always was, and I know it will be now as well.
~Eilana~